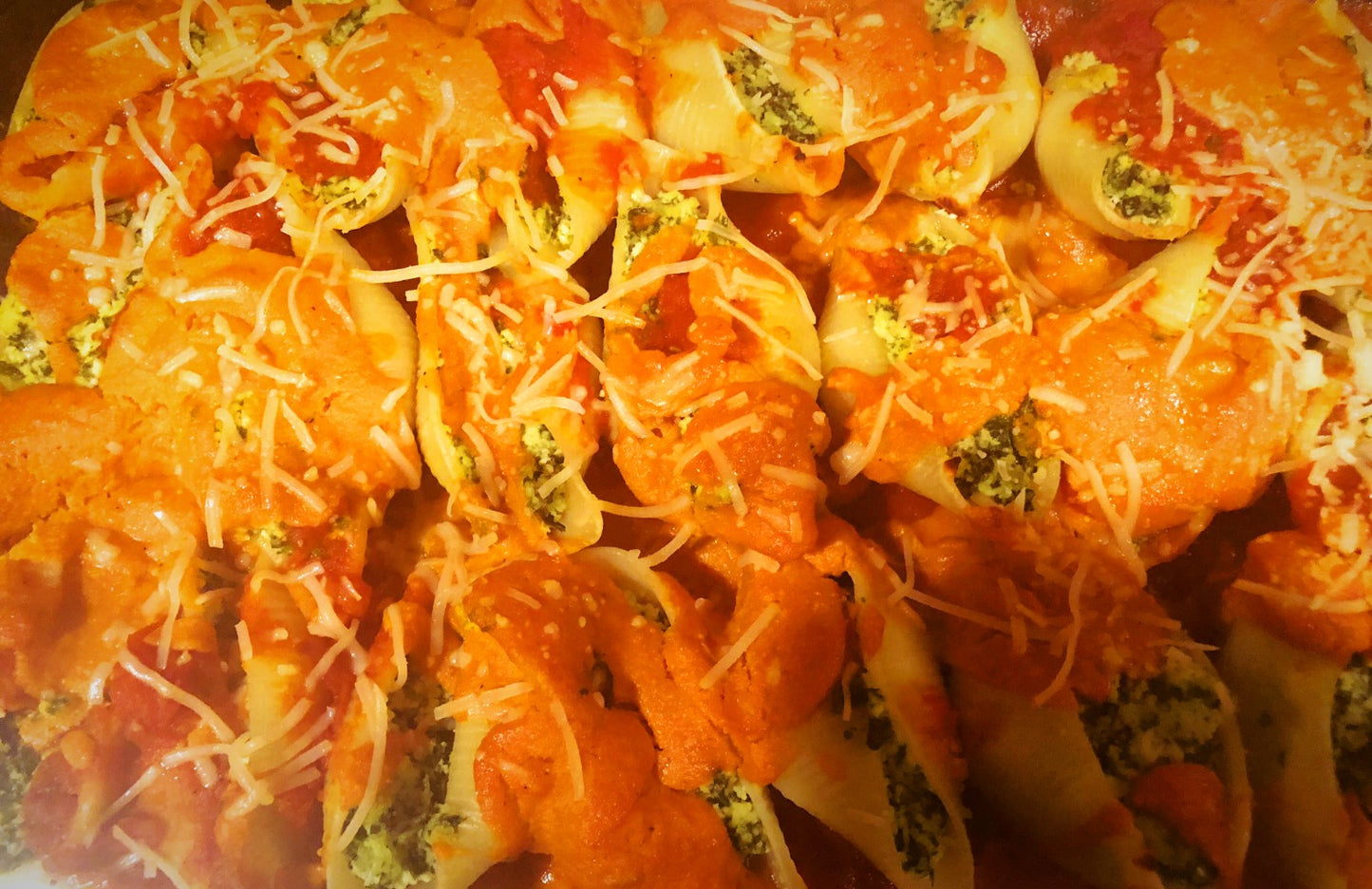 Baby, it's cold outside...and I want to help warm your ovens, palates, and bellies with this most mouthwatering vegan Italian dish - stuffed shells with macadamia ricotta and cashew pink sauce. It's all so delicious, it's hard for me to edit this video without drooling all over my laptop. (Keep it together Jenny, we've got some ingredients to give over!) Please consider making this for a holiday meal this cold season, you won't regret it.
What you need:
1 Box of Large Pasta Shells (this can, of course, be assembled into lasagna, too)
2 C Kale, Spinach
1 Bunch Basil + more for garnish
For the Ricotta:
2 C Macadamia Nuts (could sub Cashews), soaked overnight, or boiled for 10 mins
1 Tbl Nutritional Yeast
1 Tsp Sea Salt
3/4-1 C Water
For the Pink Sauce:
2 C Marinara Sauce
1/2 C Cashews, soaked if not using a high-speed blender
What you do:
Boil your pasta shells.
Pulse the kale/spinach and basil into tiny pieces. Set aside, while you combine the ricotta ingredients. Mix or pulse the green mixture into the ricotta to combine.
Make the pink sauce by blending the marinara & cashews.
Remove shells and rinse them well (boiling water likes to hide out in the folds of those shells, don't burn your fingers like I did!).
Preheat oven to 350 degrees. Using a casserole or Pyrex dish lined with marinara sauce, fill your shells with the green ricotta mixture (approximately 1 heaping teaspoon per shell). This process takes about 5 minutes, Make it a meditation, listen to some nice music, it is a worthy investment you will soon see!
Douse with pink sauce. I like to reserve some for the end. Garnish with vegan parmesan, basil. Bake for 30 minutes in the oven and voila...gourmet vegan Italian, baby!