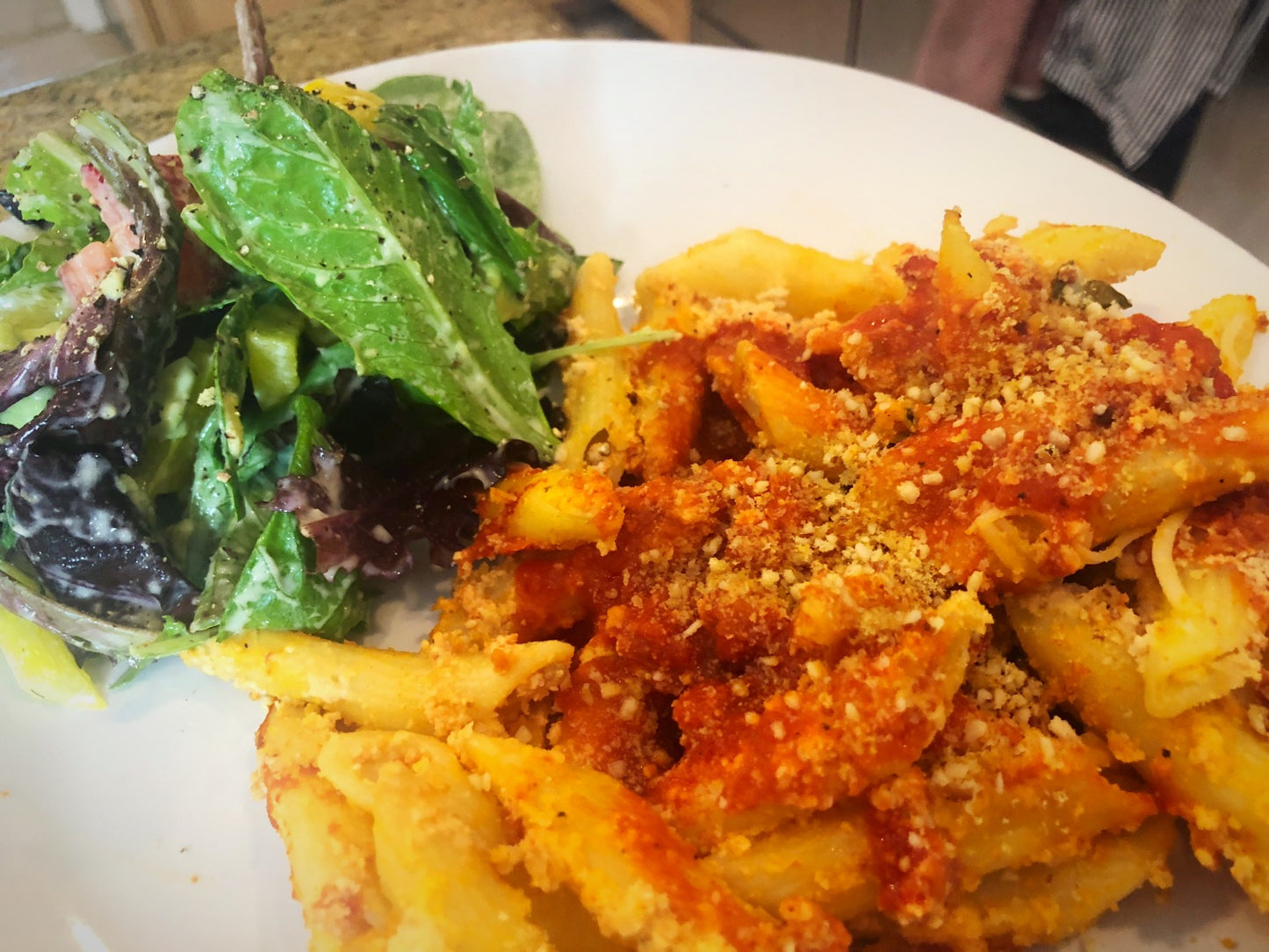 This week's recipe is a little different. We're in the middle of a 'meaty' vegan challenge. 250 people from across the globe have joined us to learn some new tricks at refining their eats. While I'm consumed with our challenge, today's recipe is a quick snippet of a brilliant baked ziti I made recently with the illustrious CNN talkshow-host-turned-animal-activist, Jane Velez-Mitchell. If this 60-second snippet feels a little fast, you can check out the full show where she interviews me as I cook, here.

Anyway, this baked ziti is another excellent use for my beloved Macadamia Ricotta, which is fast becoming a staple in my fridge. Macadamia nuts are pricey, so I use them sparingly. If you're on a budget, try using tofu (yes, firm tofu will crumble into a ricotta texture in lieu of macadamias). Either way, I hope you'll sink your teeth into this scrumptious baked ziti situation on the double!
What you need:
For the Ricotta:
1 C Macadamia Nuts or 1 Brick Firm Tofu **See notes below for soaking nuts
1/2 C Water + more to achieve consistency
2 Garlic Cloves
1/2 Lemon, juiced
1/2 Tsp Salt
2 Tbl Nutritional Yeast
Pasta: Ziti, Lasagna, Shells, etc.
Tomato Sauce of choice (dairy free obviously!)
Optional: Basil, Vegan Mozzarella Shreds, Other Veggies of choice to roast such as Eggplant, Peppers, Onions, Mushrooms, or Broccoli
What you do:
Blend all ricotta ingredients in a blender. You do not need a high-powered blender to achieve ricotta consistency! Add more water as needed.
Preheat oven to 350 degrees.
Cook pasta according to instructions (unless easy peasy, oven-ready lasagna noodles).
If using ziti, mix the ricotta into the ziti, then add the marinara and loosely combine (good to have some red and white components, not all pink).
Add vegan mozzarella shreds and basil, if using. Cover with foil and bake for 45-60 mins (less for ziti, more for lasagna). Increase oven temperature to 425 and cook, uncovered, for 10 minutes for a crispy top.
Serve with extra, warmed marinara & herbs.
*Soaking your nuts: if using a high-powered blender such as a Vitamix, you can pop these guys in raw. For any other blender, please soak the nuts overnight, or for at least 4 hours in hot water. In a pinch, you can boil them for 10-15 minutes. This is very important so they will break down properly and achieve the creamy texture needed here.