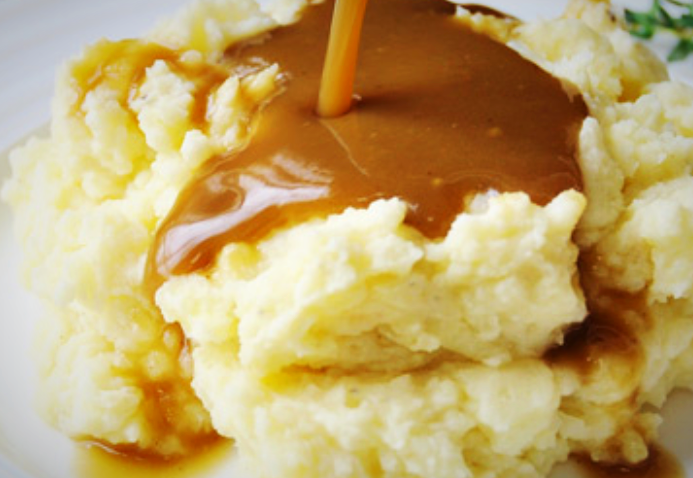 This staple recipe is much-needed as we build our Thanksgiving plates. The mashed potatoes come together in a snap, just make sure you've got some non-dairy milk and butter on hand. But the gravy is really something special. I diligently combed through all the best vegan gravy recipes out there and added my own twist to make this a dreamy, creamy, thick, deeply flavorful consistency to carry you through the cold months and beyond. Keep this simple gravy close to home. Make it this week to save for Thanksgiving and it'll even freeze for your cooking ease!
What you need:
5 Russet Potatoes, or potatoes of choice, peeled or not
Non-dairy Milk
Non-dairy Butter
Salt, Pepper
Optional: Garlic
For the Gravy:
1 Onion, chopped
8 oz. Mushrooms - baby bella, cremini, portobello all work great
2 Tbl Vegan Butter
1 C Vegetable Broth
2 Tbl Soy Sauce
2 Tbl Flour (of any kind, to create a roux)
Salt, Pepper
Optional: 1 Tbl Miso Paste
What you do:
Sauté onion in water or oil in a pan over medium heat.
Peel, if you like, and chop potatoes into about 1" cubes. Set potatoes with cool water to cover in a pot on high heat.
When onions are translucent, in about 10-12 minutes, add the mushrooms and give those guys around 8 minutes to shrink, darken, and cook the moisture out.
Add the remaining gravy ingredients, turn heat to low and allow the flavors to meld for 2-3 minutes.
Drain potatoes, mash with a fork, masher, or beaters. Add non-dairy milk, butter, salt, pepper, garlic as you wish.
Blend the gravy in a blender on high until combined.
Assemble the potatoes, gravy, and a bit of parsley/rosemary/extra crack of salt/pepper.
Taste, roll your eyes into the back of your head in delight.