Let customers speak for us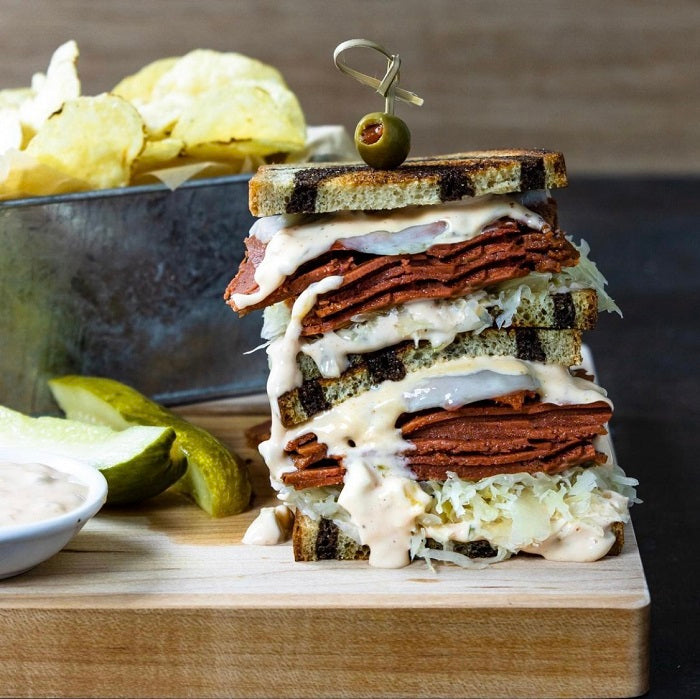 Don't have a cow, we've got no beef.
If it's good enough to win Shark Tank, it's good enough for shelves and menus nationwide! Our flagship corn'd beef is made with wholesome ingredients like beets, tomatoes, and chickpeas packing every slice with tons of vitamins and minerals in addition to a protein-rich punch at 14g per serving!
Layered with sauerkraut, Russian dressing, and some melty cheese on rye, this makes for the perfect Unreal Reuben! Or schmear it with some spicy mustard and top with a couple sour pickles for a quality mile-high deli stack.
Unreal Deli Orders
A difference your customers can TASTE!
• No cholesterol, zero nitrates.
• High protein, low fat, low carb.
• Food from a farm, not a factory.
• Ingredients you can pronounce.
• No GMOs, additives, or preservatives.
And the planet appreciates:
green packaging + local ingredients = minimal carbon footprint
• Freezes up to 8 months (or to date on package, whichever is sooner).
• Fresh for 6 weeks refrigerated.
• Best consumed within 5-7 days of opening.
Takes too long to ship come on it's 2023
Delicious!!
Love Unreal Deli!! These products are filled with great ingredients, are very filling and make delicious sandwiches! We always keep a pack in our fridge.