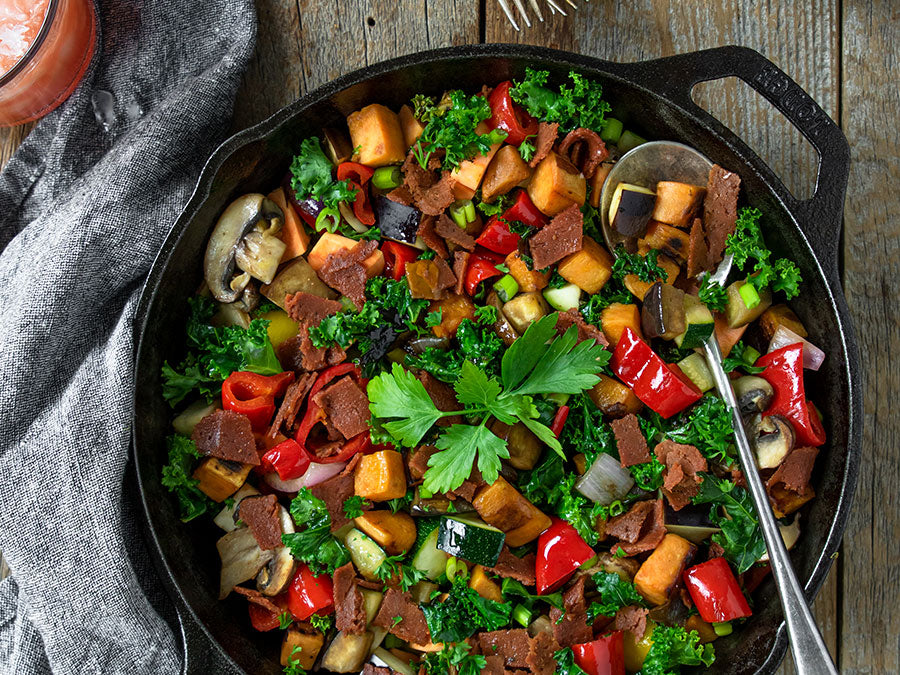 Clean out your vegetable bin for this classic dish made new. Dive into flavors and colors that the best deli dreams are made of.

1 Russet Potato, chopped
1 Red Bell Pepper, chopped
1/2 Onion, diced
2 Leaves Dinosaur/Lacinto Kale, chopped
2 Tbl Olive Oil
OPTIONAL: Zucchini, Mushrooms, Sweet Potatoes
GARNISH: Parsley
To crisp up Unreal meat:
1 Tbl vegan butter
4 oz. Unreal Corn'd Beef or Steak, sliced or chopped
Add vegan butter to pan and heat. Chop meat into 1-inch pieces. Sauté in pan, stirring occasionally until desired crispness is reached. Don't overcook, a small amount of heat goes quite far.
Boil potatoes until semi soft. Drain. Heat olive oil in a pan. Add potatoes and sauté for 5 minutes until golden brown. Add red bell pepper and onions and sauté for 5 more minutes. Add kale. Add crisped meat and toss together.