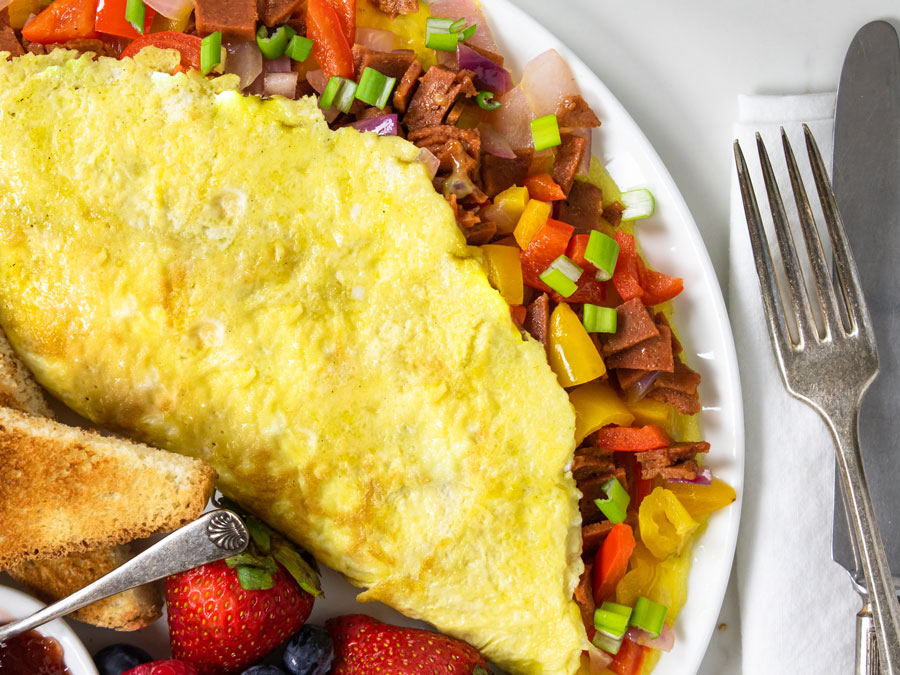 Our scrumptious brunch bites translate into any eggy dish you can dream up; scrambles, omelets, frittatas, quiches. See how easy it is to veganize your favorites.
6-inch Frying Pan OR Mini Muffin Tin
1 Tbl +1 Tbl Olive Oil
1/2 Onion, diced
3 Tbl Red OR Green Bell Pepper, chopped
2 Tbl White Button Mushrooms, chopped
1 Tbl Chives, chopped
1 Tsp Salt
1 C Just Egg (or any egg replacer of your choosing)
3 Slices Unreal Corn'd Beef, chopped
2 Tbl Tomato, chopped
OPTIONAL: Vegan Cheese
TOPPINGS: Parsley
Preheat oven to 375. Heat 1 TB olive oil in pan. Add onions, sauté for 2 minutes until translucent. Add peppers and mushrooms and sauté for 3 more minutes. Add chives and sauté for 1 minute. Sprinkle with salt. Add additional 1 TB olive oil.
Now choose between the following two finishing options…
FOR OMELET or FRITTATA (also works great in SCRAMBLES, QUICHES, etc.):
Add unegg and cheese (if using). Cook on low for 3 minutes. Put into oven and cook about 6 more minutes until top is golden brown and appears fully cooked.
FOR BRUNCH BITES:
Remove pan from stovetop and let cool 2 minutes. In separate bowl add unegg and cheese (if using). Add sautéed vegetables and stir. Spoon into greased mini muffin tin. Cook in oven for 5 minutes or until golden on top.