Let customers speak for us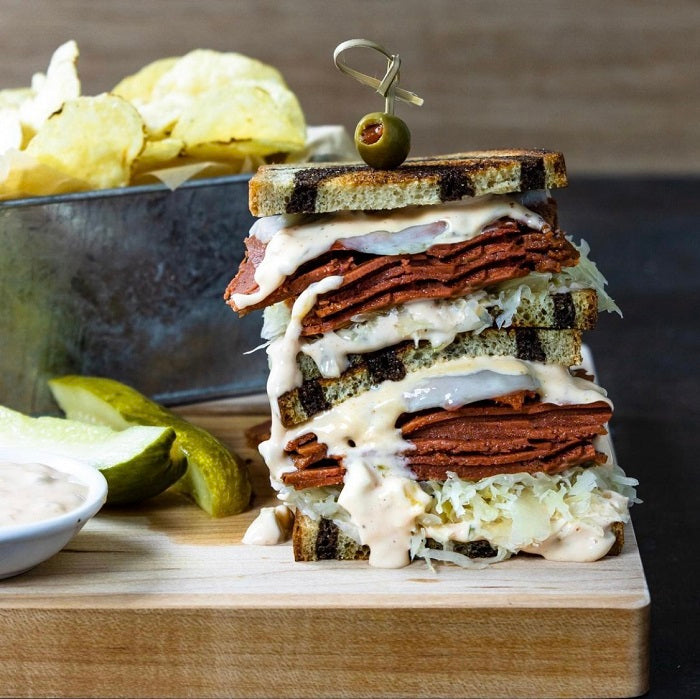 Vegan Corned Beef Slices
Beans beet meat. Our flagship corn'd beef is made with wholesome ingredients like beets, tomatoes, and chickpeas packing every slice with tons of vitamins and minerals in addition to a protein-rich punch at 14g per serving!

Layered with sauerkraut, Russian dressing, and some melty cheese on rye, this makes for the perfect Unreal Reuben! Or schmear it with some spicy mustard and top with a couple sour pickles for a quality mile high deli stack.

Along with our recyclable/compostable packaging, we source our ingredients locally and never use anything GMO so that our carbon footprint is as minimal as possible.

Eat Good. Feel Good. Do Good.
Unreal Deli Orders
• Free Shipping on orders $99+
• Freezes up to 8 months (or to date on package, whichever is sooner)
• Fresh for 6 weeks refrigerated
• Best consumed within 5-7 days of opening
• Satisfaction Guaranteed with our money back guarantee
Why is the 1lb box so expensive compared to the other boxes? 
The cost of freight is the reason our mini box is so pricey compared to the other boxes. This box is for folks who aren't sure if they'll like it (they will!) and want to get a sampling of the product. For a better value, check out our larger boxes - because the product freezes so well, larger boxes are a no-brainer for most.
Great product!
Overall great product and perfect for sandwiches.
It came ? Months later
They biiled us June7 and again early July but never shipped it...maybe 8 weeks late it came???
Deliclious
We make Reuben sandwiches. So good!!! You won't miss the meat.
our family enjoyed the cornbeef and the spices.