Let customers speak for us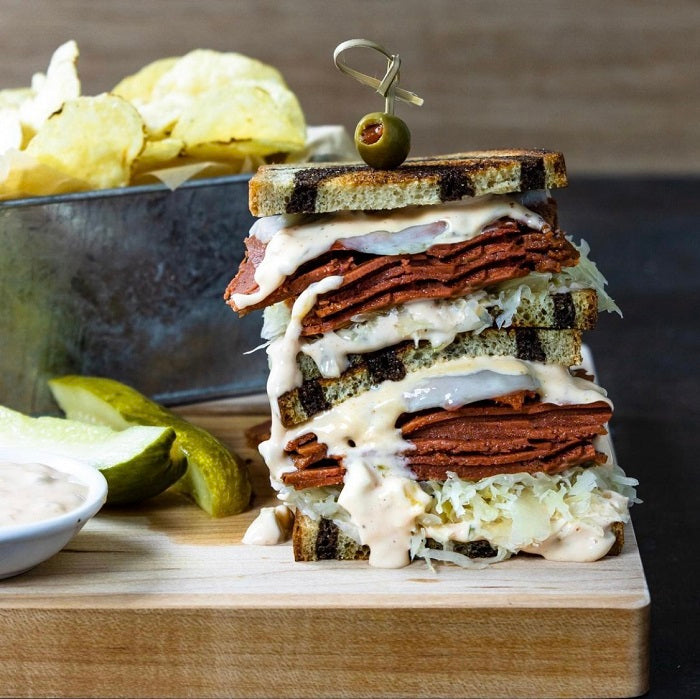 8 x 4lb slabs of Unreal Corn'd Beef (32lbs).
• Great for delicatessens, restaurants, and pros with meat slicers -or- those that like a thicker cut.
• Dice up or crumble for hashes, quiches, tacos, and more.
If it's good enough to win Shark Tank, it's good enough for shelves and menus nationwide! Our flagship corn'd beef is made with wholesome ingredients like beets, tomatoes, and chickpeas packing every slice with tons of vitamins and minerals in addition to a protein-rich punch at 14g per serving!
Layered with sauerkraut, Russian dressing, and some melty cheese on rye, this makes for the perfect Unreal Reuben! Or schmear it with some spicy mustard and top with a couple sour pickles for a quality mile-high deli stack.
Unreal Deli Orders
A difference your customers can TASTE!
• No cholesterol, zero nitrates.
• High protein, low fat, low carb.
• Food from a farm, not a factory.
• Ingredients you can pronounce.
• No GMOs, additives, or preservatives.
And the planet appreciates:
green packaging + local ingredients = minimal carbon footprint
• Freezes up to 8 months (or to date on package, whichever is sooner).
• Fresh for 6 weeks refrigerated.
• Best consumed within 5-7 days of opening.
The corned beef I've craved for decades!
Since we became a vegetarian family thirty years ago, there are a very few things I have missed. At the top of my list is corned beef. All my old recipes -- Reuben sandwiches, corned beef and cabbage, Irish potato salad, red flannel hash -- are back!! Hoorah, and thank you to Mrs. Goldfarb's Unreal Deli.
Deli Maven Shipment
Always arrives in perfect condition